When: Saturday, September 8, 2007 from 9am to 1pm
Where: Austin Chinese Church, 11118 Dessau Road (Braker Lane and Dessau Road)
Who: Open to the General Public with a focus on the Asian American community
Cost: Free
What: Free Healthcare Services including: Cholesterol Screening (first 300)1, Diabetes Screening1, Massage, Acupuncture & Acupressure Consultations, Mental Health Consultations, Fitness Info, Nutrition Clinics, Cooking Demonstrations, Safety Clinics, Information Booths, Translation Services
1Requires 12 hours of fasting

Sponsored by:
The Network of Asian American Organizations, Steps To A Healthier Austin, Seton Healthcare Network, SAHELI for Asian Families and Austin Chinese Church.

Supported by:
NAAO, AAACC, AARC, Academy of Oriental Medicine, American Cancer Society, American Heart Association, American Liver Foundation, Austin Chinese Church, Austin Fire Department , Austin Police Department, Ayurvedic Wellness Medicine, BAGA, Bone Marrow Registry, Brain and Spine Center , Breast Cancer Foundation, Austin Travis County Health & Human Service, Costco Wholesale, Interlex, Liberty Fitness Round Rock, Miller Therapy Group, SAHELI for Asian Families, Seton Austin Cancer Center, Seton Bone & Joint Services, Seton Family of Hospitals, Steps to Healthier Austin, Sustainable Food Center, The Care Communities

For more information contact:
Susan Fifer at 835-6697

Directons:
Exit Braker Lane on I-35, Mopac, or 183, and go to the east bound direction. Drive all the way to the end of Braker Lane, and then make a right turn on Dessau Road. Austin Chinese Church is on your right hand side. Free parking available.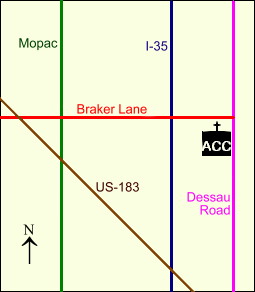 If you have a question about participating in the health fair please complete the form below.