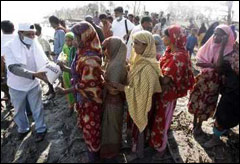 Bangladeshi storm survivors queue to collect relief aid. Photo courtesy of Alertnet.org
"DHAKA, Bangladesh (AP) -- A powerful cyclone battered the coast of Bangladesh with strong winds, surging waves and heavy rain, forcing hundreds of thousands of villagers in the low-lying nation to seek shelter."

If you would like to make a donation to assist victims of the recent cyclone that has devastated Bangladesh please contribute through the following links.